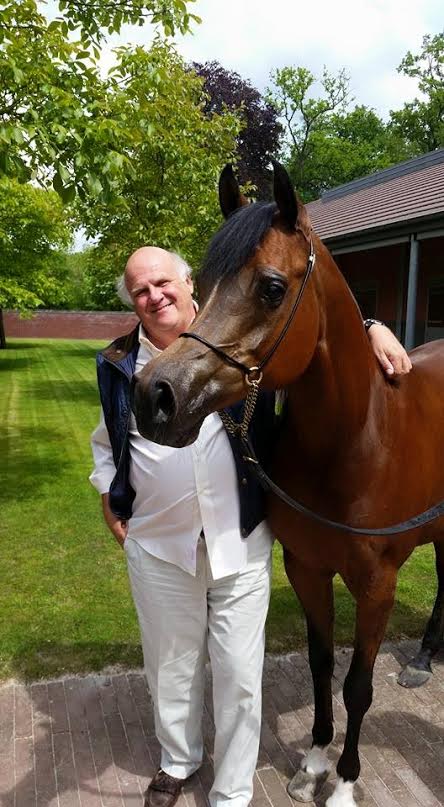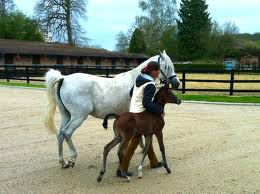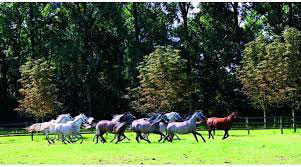 I woke up the following day to a beautiful tour of Darby Farm with Johanna and Jeremy Ulstrom, and saw many beautiful horses that belonged to Murilo Kammer. One in particular was the Borsalino K daughter Afrodite K. I also some beautiful foals by Emerald J and a gorgeous weanling filly, also by Borsalino K—an assorted group of very beautiful European style horses with great carriage and style.
Next up was Christine Jamar's Jadem Arabians, and she too, showed us many great horses. First we saw the stallion, Excalibur EA, a gorgeous triple crown winning World Champion Colt. He is so impressive and so very well-made! Christine's young stallion Shiraz De Lafon was then presented, who is also by Shanghai EA and out of a Khidar mare. We enjoyed many beautiful and outstanding young foals on the lawn in front of her home, along with several beautiful QR Marc and Emerald J daughters, most of them out of Ekstern mares. Pictured here on the blog is Murilo and his stunning mare Rayyana K. She too, was presented to us at Jadem Arabians.
I always enjoy Christine because I know so much about her history. In the 1990's she came to America and brought some Polish foundation stock from the Decter family through Raymond Mazzei. She has done an amazing job layering on stallions such as Ararat and Ekstern, then QR Marc and now Emerald J. She is always blending great breeding stock while creating a beautiful Arabian horse. Christine is a breeder who works very hard and I admire that about her.
—Jeff Wallace for AHT Abroad