Arabian Horse Times and Jeff Wallace European Summer Tour of 2015
The Trip to Bialka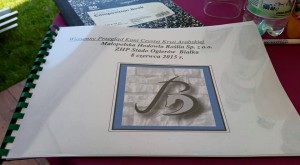 I woke up very early this morning with Ward Bemong knocking on my door to pick me up and head to the Bialka Show. Our good friend Gregor Aymar was kind enough to drive us to the Airport in Dusseldorf. We boarded the plane and had a very easy flight. Today is Corpus Christy day and so the travel was very leisurely. We met Ward's wife Maria at the airport in Warsaw and spent the afternoon enjoying the city with Maria's brother and girlfriend and their beautiful young child. Today is Ward's birthday so it was nice to spend that with him and his family.
It is so interesting 30 years later to be back in Warsaw. Since my first trip in 1985 so much has changed. Warsaw was very bright and cheery, the weather beautiful and the people are very fashionable. It simply seems a happy city, this is a true testimate to freedom, something the Poles treasure so much and for good reason. It seems they were drug into every war for many years that happened around them. Needless to say that is a very difficult life. Then lived under communist rule and now a wonderful country full of happy people living their lives. It is amazing 30 years later to witness this. The first time I arrived here there were armed guards on each side of the exit ramp from the airplane and I will never forget that.
I really look forward to driving to Bialka tomorrow, seeing the stud farm and its breeding stock as well as enjoying the parade of youngsters at this years show.
—Jeff Wallace for AHT Abroad