Arabian Horse Times and Jeff Wallace European Summer Tour of 2015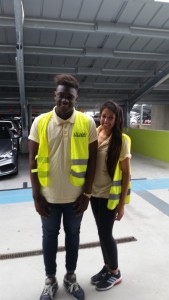 After losing my coveted AHT vest WITH my passport and wallet in the pocket upon my arrival at the Nice Airport yesterday these two wonderful Hertz employees took great care of me. They were my Angels in Nice.
They sat with me while I told my sad story to the French Police. Amazing!
I woke up this morning to a note slipped under my Monte Carlo hotel room door saying a gentleman in the French Alps called last night saying he found my vest with everything in it.
Viva La France!
Stay tuned for all my weekend updates!
—Jeff Wallace for AHT Abroad