Arabian Horse Times and Jeff Wallace European Summer Tour of 2015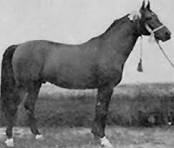 Ofir was born inside Janow Podlaski Stud in Poland in 1933. He was the son of the desert bred stallion Kuhailan Haifi and the mare Dziwa by Abu Mlech.
This is a sire line I dearly love as I grew up on the glorious *Bask++ horses in America during the '60s and '70s and '80's and *Bask++ was a grandson of this bay genetic powerhouse stud through his son Witraz.
The Ofir foal crops of 1938 and 1939 produced a collection of sons and daughters that would carry this sire line forward for many years to come.
The two offspring that I have to mention are Witraz and Mammona. Witraz was a magnificent breeding horse in Poland and of course Mammona founded a dynasty inside the Tersk Stud in Russia.
Ofir ended up in Tersk as well but did not seem to click with that group of mares as he had done in his Mother Stud. Sometimes this just happens with no real explanation really.
I miss the bay Kuhailan Kings and Kweens of yesteryear – Time has not been on their side.
Jeff Wallace for AHT Abroad