Arabian Horse Times and Jeff Wallace European Summer Tour of 2015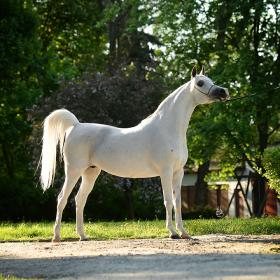 After Fallada sold a few years back in the Pride of Poland Sale I thought maybe it would be the last of the top-tier daughters of Monogramm that the Michalow Stud would let go of, but not to be so.
The glorious Georgia, for me a top five of Monogramm daughters, along with Kwestura, Zagrobla, Fallada, Espadrilla, Elandra and Martynika – isn't that 5 – LOL, will sell next month in this year's POP Sale. So far in her lifetime, she has persevered through the Kwestura and Zagrobla craze of 2000 only to continue to remain the #1 favorite Monogramm daughter for many devout Polish followers. Georgia also has the same name of Mick Jagger and Jerry Hall's beautiful daughter – therefore she is akin to rock-n-roll royalty and European chic! Her very first foal was Galilea by Laheeb who became the 2005 World Champion Mare in Paris. Georgia also was able to produce beautiful foals when mated with let's just say a few "questionable stallions" like Wiliam after Laheeb.
In the end, it will be her granddaughter Galerida by Shanghai EA and from Galilea, that will carry this stunning and strong female line forward and that she will. Galerida is even prettier in ways than her mother and grandmother.
In 1985, to kick off the Polish Ovation Sale, at Lasma in Scottsdale, these words were uttered, or something very similar, by a Polish visitor, to a crowd of terribly spoiled Americans waiting to take home a Polish treasure, "For those of you who buy our horses tonight, please treat them with love and respect, as next to our freedom, they are the most important things in our lives" – there was not a dry eye left in the Lasma Sales Center for the next minute or two after.
When the 21 year old Georgia, last year's Silver Champion Mare at 20, during the Polish Nationals, steps into the Sale arena, please remember with all of your heart, just who she is.
This photograph from Stuart Vesty shows the feminine beauty of the Gizela line inside Michalow.
–Jeff Wallace for AHT Abroad