Arabian Horse Times and Jeff Wallace European Summer Tour of 2015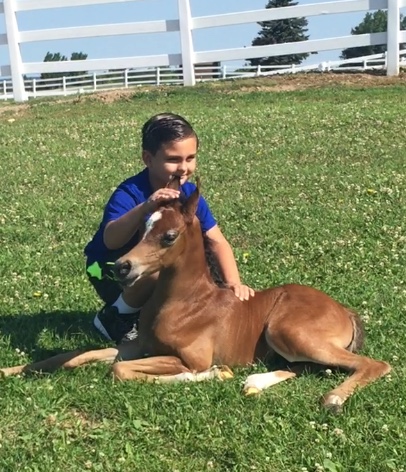 In America this year, the gorgeous and now legendary show mare *Wieza Mocy has gifted three different families with three wonderful fillies.
In January it was Cedar Ridge Arabians who struck it lucky with a stunning *Pogrom filly from *Wieza and a bit later it was Janey Morse, who actually has the mare on lease from Michalow Stud and in the hands of David Boggs, who has shown her to many important wins that received the second filly. This one by the recent Menton Gold Champion and Scottsdale Grand Champion Stallion, *Hariry Al Shaqab.
Now it is the Abel Family in Canada who welcomed yet another filly, the third, from *Wieza,  with this one being by their United States Reserve National Champion winner A Jericho, pictured here with a young Jake Boggs.
Someone last year certainly thought pink, pink and pink!
Way to go *Wieza Mocy – *Wizja would be proud.
Jeff Wallace for AHT Abroad