Arabian Horse Times and Jeff Wallace European Summer Tour of 2015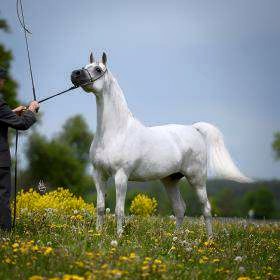 Altamira
(Ekstern to *Bask, *Banat and Burkan x Altona by *Eukaliptus and Albigowa by *Fawor with Algeria by Celebes)
grey mare – born inside The Stud – in 2005
Past Janow Director "K" might have said no to Monogramm due to his chestnut color, but his grey son Ekstern was welcomed with open arms. That has proven to be more than a wise choice on the part of Janow Podlaski.
The maternal grandam of Altamira, Albigowa was a spectacular yearling show filly and the pride and joy of her famous Polish National Champion dam Algeria, a glorious bay known then as The Queen of Janow, a Stud that has always embraced the color of bay. It was a given that Albigowa be bred to the sensational son of another famous bay mare and that was the Comet daughter Eunice – dam to *Eukaliptus whose sire *Bandos added the blood of Bandola, The Queen of Janow prior to Algeria. This breeding produced Altamira's dam, Altona.
All of these Polish breeding greats created in Altamira, The Essence of Janow Podlaski Stud and Altamira wears it well. She leaves the Stud with two glorious daughters in Anawera by Piaff and Adelita by Kahil Al Shaqab, both grey and both with big wins already. It is the American Triple Crown winning stallion that is Janow bred and owned that is the sire of her 2016 foal – *Pogrom – who will now add the famous Janow P Line taking it even deeper and more entrenched with the essence of which we speak here.
Thank you Stuart Vesty – As always.
Jeff Wallace for AHT Abroad