Arabian Horse Times and Jeff Wallace European Summer Tour of 2015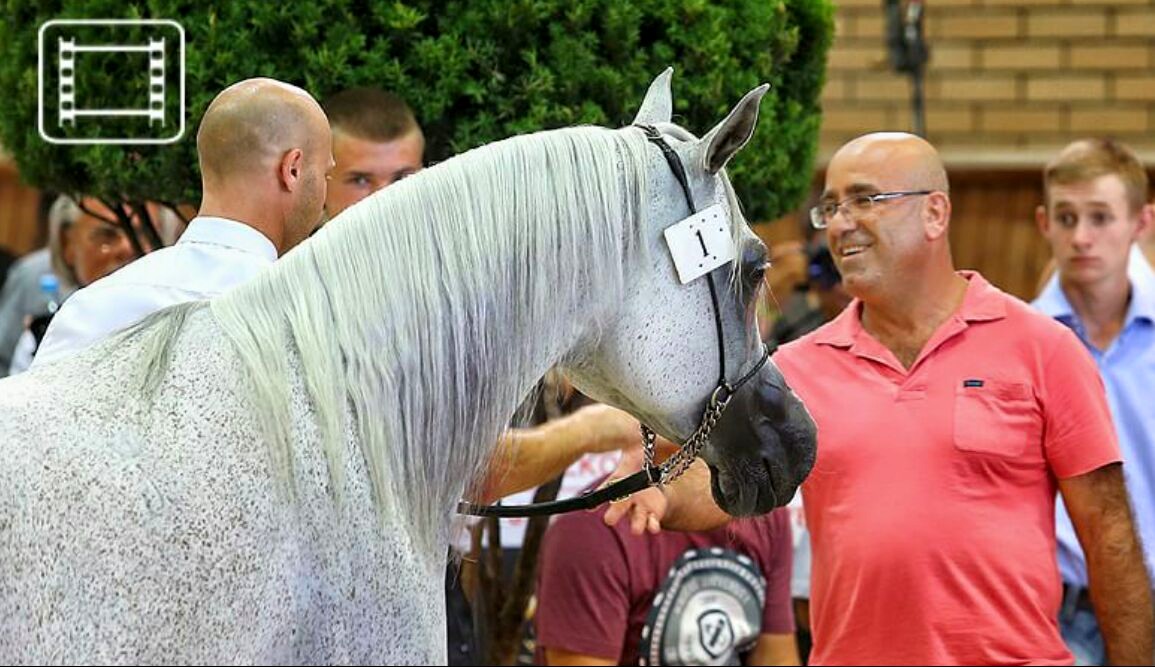 Lot One Pepita with Her Mystery Man
(Ekstern by Monogramm to *Bask x *Pepesza by *Eukaliptus to root P Line mare Piewica from Tersk)
Bred and Sold by Janow Podlaski Stud Farm
Director Jaworowski's decision to bring Monogramm, a paternal grandson of the immortal *Bask, to Poland paid off, yet once again, for the State Studs. Last night it was Janow's turn as Pepita is a paternal granddaughter through his son Ekstern. Monogramm, due to his chestnut color, was never used inside Janow Podlawski.
1.4 million was paid last night, by the man in the pink shirt, sitting in a chair on the non-VIP side of the room, who carried his back-pack to the arena and played escort to his new record setting prize, the Polish flea – bitten grey who hails from the P Line of Janow just as *Pilarka, Pianola, Pipi, Pilar, Pinga, *Penicylina, and Pianissima did and do, as well.
The smiling "Mystery Man" made it a night to remember forever – especially for Director Marek Trela of Janow Podlaski and all of Poland and we congratulate them all.
Oh, the runner-up title holder now is the direct daughter of Monogramm, of course, the glorious Kwestura, who several years ago sold for a few euro less. Kudos to the "Mighty Monogramm" and the late and legendary breeder Ignacy Jaworowski for being a rare and powerful visionary, much like the Italian Thoroughbred breeder, Tesio. Brilliant minds create brilliant futures that most often they don't live to see themselves. We are beyond fortunate and passionate souls.
Jeff Wallace for AHT Abroad