Arabian Horse Times and Jeff Wallace European Summer Tour of 2015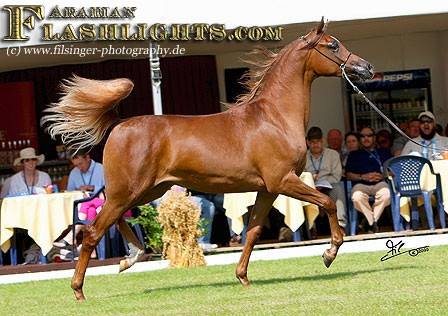 Wieza Roz – VIM – Very Important Mare
(Ekstern to *Bask x Wieza Babel by Laheeb and Wiazma by *Arbil and 1977 United States National Champion Mare *Wizja by *El Paso and Warmia by Comet to Doktryner)
Bred and Sold by Michalow Stud
I remember well the day, pictured here, a few years back, that the brilliant "then filly" Wieza Roz, dazzled the judges and crowd during the Polish Nationals and walked away with the title of Polish National Champion Junior Filly. She of course hails from the dam line of *Wizja just as Waranga, Wilda and *Wieza Mocy do.
In 2000, when the first crop of Polish-bred Laheeb foals were being born inside Michalow, it was Emira, Galilea and the beautiful bold trotting Wieza Babel that seemed to stand out from the rest – Wieza Babel was a big favorite of many visitors that year. She in turn gave the Mother Stud six fillies in a row with Roz being the standout of the six.
I want to congratulate Hilke Cécile De Bruycker andDana Al-Meslemani and all of Al Thumama Stud for making choices with tremendous substance, quality and historic value – only to assure a bright future for their farm. Excellent work ladies.
We say thank you to Irina Filsinger for this and many other great photographs taken by her over the years during Poland's special events.
Jeff Wallace for AHT Abroad