Arabian Horse Times and Jeff Wallace European Summer Tour of 2015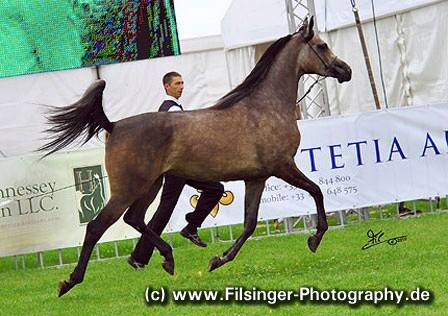 Pustynna Malwa
(Ekstern to *Bask x Pustynna Roza by Emigrant to Palas to Pamir by Probat to *Penitent to *Bandos from Bandola)
Born in 2008 – Grey mare
Bred and Owned by Michalow Stud
Pustynna Malwa is one of Ekstern's glowing young daughters. At just 7 years of age she was been a ribbon winner several times during the Polish Nationals and is now already dam to a Gold World Champion Filly, Pustynia Kahila, by World Champion Stallion Kahil Al Shaqab – now standing in America with David Boggs and Midwest.
Pustynia Kahila was mesmerizing in Poland last week where she was pinned Gold Champion Junior Filly – unanimously.
The cross of Kahil Al Shaqab on the daughters of Ekstern at the State Studs of Poland is nothing less than spectacular these days.
Jeff Wallace for AHT Abroad