Arabian Horse Times and Jeff Wallace European Summer Tour of 2015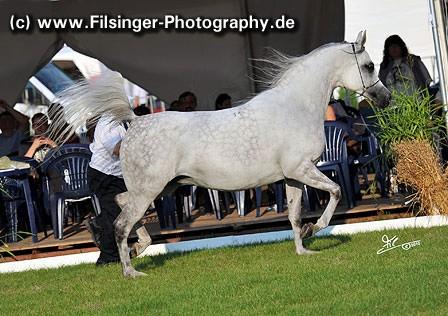 Palanga
(Ekstern to *Bask x Panika by *Eukaliptus to Plisa by Probat with a Tersk Stud tail female line to Porfira by Priboj to Ofir)
Grey mare – Born in 2002
Bred and Owned by Michalow Stud
It was a smart move when Athbah Stud – Managed byWard Bemong – purchased the gorgeous and unique Panika by *Eukaliptus, a few years back. She has been a fabulous producer.
Today at the Al Khalediah Horse Festival in Poland her Ekstern daughter Palanga was named the Gold Champion Mare with Michalow's beautiful Monogramm daughter Emmona right behind her as Silver. Wow! Palanga is no stranger to the winner's circle as she is a very feminine mare with beautiful breed type and excellent carriage.
Congratulations to ALL!
Jeff Wallace for AHT Abroad