Arabian Horse Times and Jeff Wallace European Summer Tour of 2015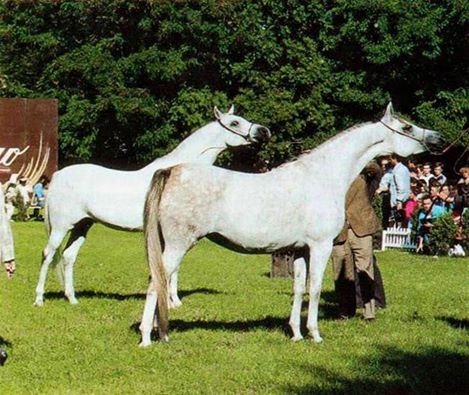 Emigrantka
(*Eukaliptus to Skowronek to Comet and to Amurath Sahib x Emigracja by Palas to Nazeer and to Eskapada by *Naborr and Estokada by Amurath Sahib)
Grey mare – Born in 1985
Bred and Owned by Michalow Stud
Emigrantka, in this photograph, is the perfect example of being "pleasing to the eye". Emigrantka and Esklawa of Alzobair Stud were born the same year, in 1985, the year of my first visit to the State Studs of Poland. They were breathtaking weanlings.
Emigrantka did not live a long life like Esklawa has but during her 17 or so years, Emigrantka not only brought down the house one year in Aachen but managed to produce a son and daughter such as the legendary two-some, Emigrant and *El Dorado, both sired by stallions coming down from branches of the Nazeer sire line – Aswan and *Morafic.
Emigrantka remains my favorite creation of Director Jaworowski to this very day. I still get a lump in my throat when I think back on her entrance into the Aachen arena – I am certain I always will.
Thank you for sending me this photo Aude Espourteille.
Jeff Wallace for Historic AHT