Arabian Horse Times and Jeff Wallace European Summer Tour of 2015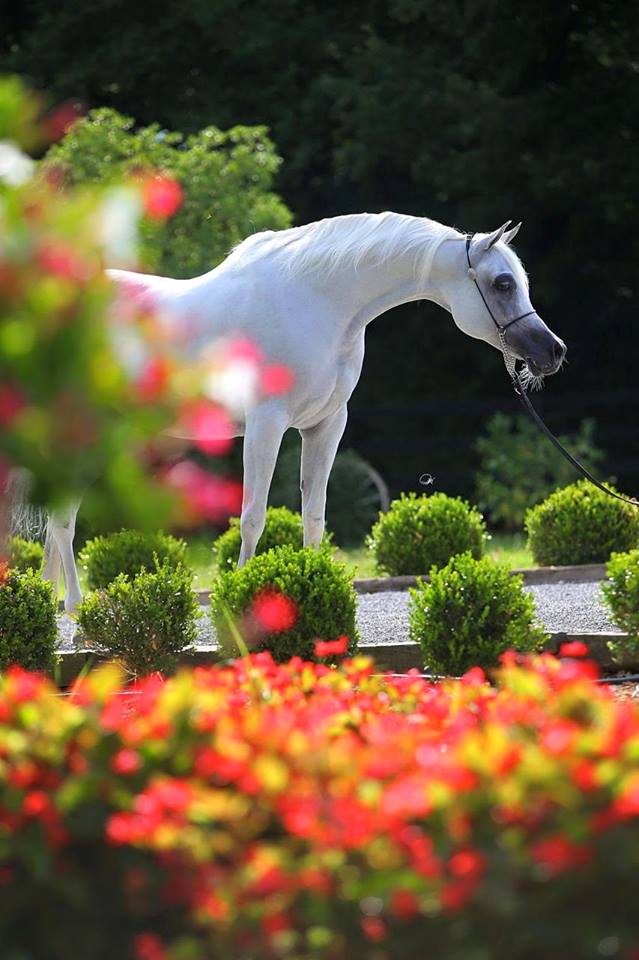 Darine Al Rayyan
(Ashhal Al Rayyan by Safir to Ansata Halim Shah x Aisha by Ansata Halim Shah and Ghazala from Hanan by Alaa El Din)
Grey mare – Born in 2002
Bred and Owned by Al Rayyan Farm in Qatar
Perfectly presented by Giacomo Capacci Arabians for Al Rayyan – Hamad Ali AL Thani – and managed bySanti Fornieles
Aisha was always known to not only be one of Ansata Halim Shah's most beautiful daughters but also one with impeccable breeding given that her dam was the result of mating two breed legends – Ghazal and Hanan.
Ansata Halim Shah, as Judi Forbis will tell you, was *Ansata Ibn Halima's finest son in the breeding sheds of America, Europe and the Middle East. "He simply reproduced himself practically every time," said Judi, in California one day, during a long walk.
It is no surprise that the gorgeous Darine Al Rayyan boasts two lines to Aisha and four to Ansata Halim Shah. Darine, no doubt, will wear her beauty and beautiful breeding well this weekend in Lanaken, with Giacomo Capacci at the end of her lead. Her depth of quality is a tribute to her recently deceased, yet triumphant sire, during his life on earth – Ashhal Al Rayyan. What more could one ask for in a mare.
Thank you Gigi Grasso.
Jeff Wallace for AHT Abroad