Arabian Horse Times and Jeff Wallace European Summer Tour of 2015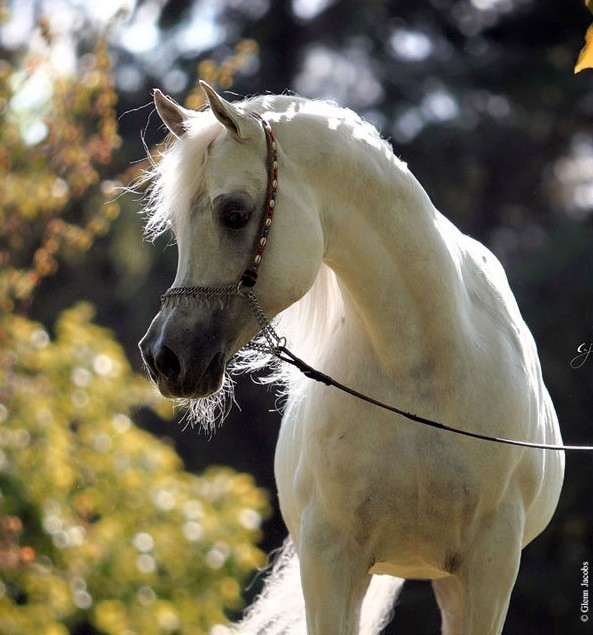 Ansata Nile Echo
(Ansata Hejazi to *Ansata Ibn Halima and Ansata Abu Sudan from *Ansata Bint Misuna to Kheir x Ansata White Nile by Prince Fa Moniet to *Morafic and Ansata Ibn Sudan with a tail female line to Falima by *Ansata Ibn Halima and foundress of the Nile Family at Ansata)
Grey Stallion – Born in 1996 – to Ansata Arabian Stud in Mena Arkansas USA
For Ansata Nile Echo, the horses in his past are some of the finest straight Egyptian bloodstock to have ever graced this planet. In 1967, Don and Judi sent their beloved *Ansata Bint Mabrouka to Gleannloch to be bred to her brother *Morafic which produced the outstanding breeding stallion Ansata Shah Zaman. Two years later they sent broodmare supreme Falima and in 1970 Falima gave them Ansata Nile Jewel – dam line for Ansata Nile Echo. He is simply a stallion who took the very best from those in his pedigree and left the rest. I love horses like that.
Ansata Nile Echo produced beautifully for Al Rayyan Farm in Qatar, a few years back, as well as for Al Shaqab – Member Qatar Foundation, Al Waab, Al Nasser and Al Naif Studs. His daughter at Aljassimya Farmfb, Annaiss, has given them two glorious colts by WH Justice, the yearling Jalal Aljassimya and a younger full brother born just this Spring. I have seen them both and they have spectacular breed type and a unique elegance – they will be fun and interesting to watch mature.
We thank the photographer Glenn Jacobs.
Jeff Wallace for Historic AHT and AHT Abroad