Arabian Horse Times and Jeff Wallace European Summer Tour of 2015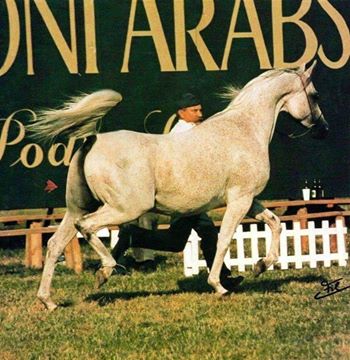 Esklawa – pictured here
(Eukaliptus and Ekstaza by Celebes to Estokada by Amurath Sahib)
Grey mare – Born in 1985 at Michalow Stud
Owned by Al Zobair Stud in Sharjah – expertly managed by Michael Van den Elsken
When you are a great breeder, and as one great breeder such as Director Jaworowski would say, when you are also blessed with a lot of good luck, you will sometimes have a foal crop where one, two or possibly even three future stars are born. In 1985, thirty years ago, Director Jaworowski had just that. Not one – but not three either – but two – and oh what a pair they were. Emigrantka and Esklawa, grey gifts from legendary sire *Eukaliptus coming out of his precious E Line Family of mares established with the Amurath Sahib daughter Estokada, daughter of Saga. I was fortunate enough to see them both as weanling fillies and they had big black gorgeous eyes, swan like necks, each with a tiny throatlatch with glorious motion and carriage, and lastly coupled with near perfect breed type. They were born stars and they remained stars, their entire lives. They also gave birth to future stars. Emigrantka, long since deceased, gave us El Dorado by Sanadik El Shaklan, and the still living, at thirty years of age, Esklawa, has given us Salwa Al Zobair by Marajj. Marajj, an outstanding breeding horse from Albidayer Stud, and a son of Marwan Al Shaqab.
Salwa Al Zobair, with Tom Schoukens at the lead, will compete next week in Aachen, while carrying the Al Zobair banner – and carrying it high. This team brought home the Bronze from Menton and the Gold from Chantilly. Esklawa is proud and wishes her daughter well. This I am certain about.
The following year, in 1986, Director Jaworowski was gifted with another shining star, the great Emanacja, but in 1990, it was a pair once again, Erlanda and Estarda – yet both died together tragically just five years later. For the stars especially, life can be quite fragile. This is why Salwa Al Zobair and El Dorada are so precious to our beloved breed.
Jeff Wallace for AHT Abroad — Aachen