Arabian Horse Times and Jeff Wallace World Travels of 2015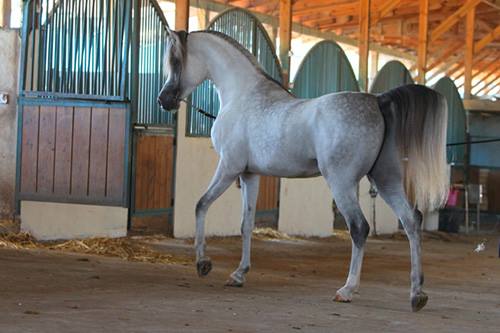 Baha AA
(Al Ayad and Baraaqa by Laheeb to The Vision HG by Thee Desperado)
straight Egyptian stallion – grey
Bred by Ariela Arabians in Israel
Owned by NJ Arabian Horse Ventures – Managed by Jeff Sloan
Beautifully presented by David Boggs
This is a photograph taken in Israel, a few years ago, showing what a gorgeous creature Baha AA has always been.
The straight Egyptian stallion in general, has had more influence globally, on our breed, than anything else in the past 15 to 20 years. Baha AA is the epitome of today's modern Arabian stallion.
We congratulate Jeff and NJ Partners, as well as all of Midwest, on his Silver Champion Stallion win this past weekend in Scottsdale and know this outstanding horse is just getting started.
Congratulations to ALL involved! And thank you to Israeli photographer Mensha Cohen.
Jeff Wallace for AHT