Arabian Horse Times and Jeff Wallace World Travels of 2015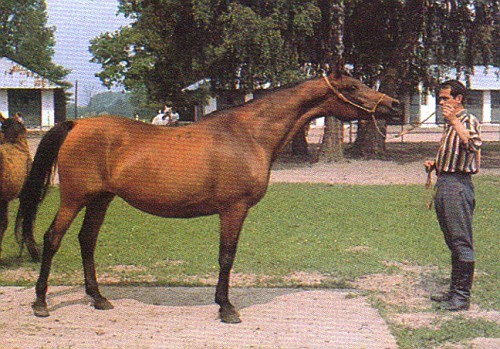 That of Bronze Champion Mare Alabama – Presented by
Tom Oben
for Al Thumama
Algeria – The Queen of Janow Podlaski Stud
(Celebes by Witraz to Ofir x Algonkina by *Pietuszok and Bulwa by Witraz by Ofir)
Bay mare – Born in 1971 – Died 31 years later in 2002 after delivering 18 foals to the Mother Stud
Algeria was a gorgeous Kuhailan mare who was named Polish National Champion Mare in 1982. When she arrived in Paris later that year to compete for the title of World Champion Mare, she was not feeling well and Director K said quickly, "Take my prized possession and now patient home". He adored the Witraz/Ofir bred horses for their amazing overall structure, dynamic movement and big black liquid eyes. Algeria also had what many did not and that was a gorgeous and small – ultra feminine head.
This photograph, by the way, was taken during an "inspection trip" that Dr LaCroix made to Poland in the mid eighties. Secretly, he desperately wanted them to let him have Algeria's beautiful bay colt Alegro, by *Probat. The Arabian market, unfortunately crashed in America shortly thereafter, and Alegro stayed home.
Alabama and Al Thumama have a lot to be proud of beyond a Championship win however the Bronze Damsel of Deauville win is lovely nod, and I am sure much appreciated by all involved.
Jeff Wallace for AHT and Dams of Distinction