Arabian Horse Times and Jeff Wallace World Travels of 2015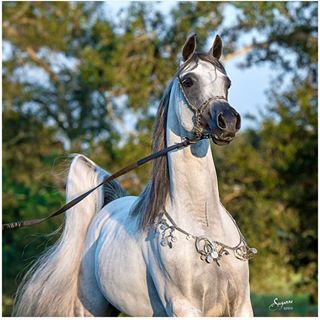 Badiaa Al Shahania
(Marwan AL Shaqab and Majalis by Ali Jamaal to Spanish sires Zancudo, Zurich and Malvito – also to the Crabbet stallion *Silver Drift)
Grey mare – Born in 2011
Bred and Owned by Al Shahania Stud
Perfectly presented by Michael Byatt
2015 United States National Winner of 4&5 Year Old Mares
2015 United States National Reserve Champion Mare
Badiaa Al Shahania's pedigree represents not only great horses that are a part of the tapestry woven and continuing to be woven at Michael Byatt Arabians but also the great people – in the end, seemingly one in the same.
Great breeders Michael Byatt, Ray and Nora Tatum, Doug Dahmen, and now Al Shahania Stud, stand firmly behind this exquisite grey mare. We congratulate them all on the many wins of Badiaa, but also on their undying efforts while focusing on breeding the very best Arabians possible. In the end – we all win – including our beloved breed.
Thank you to Suzanne Sturgill.
Jeff Wallace for AHT